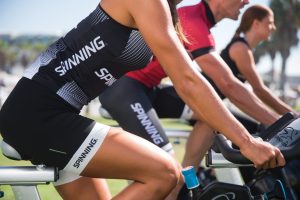 Content:
Our Certified Spinning Instructors inspire riders around the world with safe, effective, and exciting rides that keep students coming back for more. And it all starts with our Spinning Instructor Certification. This comprehensive program provides fitness professionals with the practical knowledge and skills to become a dynamic indoor cycling leader. Get certified today.
Note: This certification is currently available as an Online and either Virtual or Live Blended offering during Coronavirus restrictions. Please check the dates available on our website to view the options available.
What Instructor Certification teaches:
Spinner® bike setup and safety
Cycling biomechanics
Creating motivating class ride profiles
Coaching and teaching skills
Spinning Energy Zones™ and heart rate training
Visualization techniques to enhance the mind/body connection
Why Spinning® Instructor Certification? 
Spinning Instructor Certification provides CECs and CPD points with leading fitness organizations including ACE, NASM, and REPs Ireland. It is also the first step within the Spinning Certification Pathway.
Prerequisite:
An EQF level 3 Fitness Instructor is required for REPs Ireland members wanting to claim REPs Ireland CPD points.
A cycling coaching award plus supporting evidence (optional)
Assessment:
During the course, there is also formative ongoing assessment and practical assessment on Zoom or Live depending on the course date chosen.
Workshop attendance (100%)
Post-course online theory assessment. Passing score (80% or higher)
Awarding Organisation:
N/A
This is fix for colorbox for small devices, This is fix for colorbox for small devices