Here at Meditation Personal Trainers® we can show anyone who is prepared to learn how to Meditate. We only teach 21st Century non-religious Meditation techniques that are proven to work quickly and efficiently. You will only ever be taught by a fully qualified and insured MPT Life Style Motivational with years of experience in teaching Meditation – never, ever by any self-styled Meditation Guru preaching to you about changing your entire way of life or becoming 'one with the Universe'.
If you are a Personal Trainer then this Meditation course is a MUST. This Meditation Instructor Course will teach you how to deliver meditation techniques safely and with expertise to your clients. You will set yourself apart from other trainers because you will be able to add a technique that will help clients achieve their goals more easily.
Your PT session will be effective for your clients because Meditation has been shown to help combat hypertension, stress, fatigue, anxiety, concentration, chronic lower back pain and many other conditions.
Meditation is the ultimate Stress Buster for you and also your clients.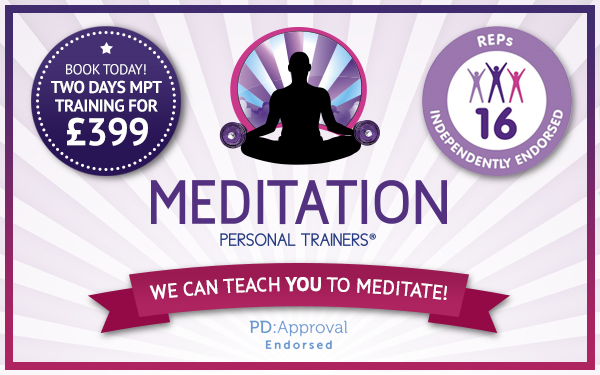 You will learn all about Mindfulness and how to Meditate yourself and also how to teach your clients to Meditate too.