Address and Contact
Norwich Wellbeing Centre 15 Chapel Field E Norwich Norfolk NR2 1SF
GPS: 52.6273127, 1.2889782
Here at Meditation Personal Trainers® we can show anyone who is prepared to learn how to Meditate. We only teach 21st Century non-religious Meditation techniques that are proven to work quickly and efficiently. You will only ever be taught by a fully qualified and insured MPT Life Style Motivational with years of experience in teaching Meditation – never, ever by any self-styled Meditation Guru preaching to you about changing your entire way of life or becoming 'one with the Universe'.
If you are a Personal Trainer then this Meditation course is a MUST. This Meditation Instructor Course will teach you how to deliver meditation techniques safely and with expertise to your clients. You will set yourself apart from other trainers because you will be able to add a technique that will help clients achieve their goals more easily.
Your PT session will be effective for your clients because Meditation has been shown to help combat hypertension, stress, fatigue, anxiety, concentration, chronic lower back pain and many other conditions.
Meditation is the ultimate Stress Buster for you and also your clients.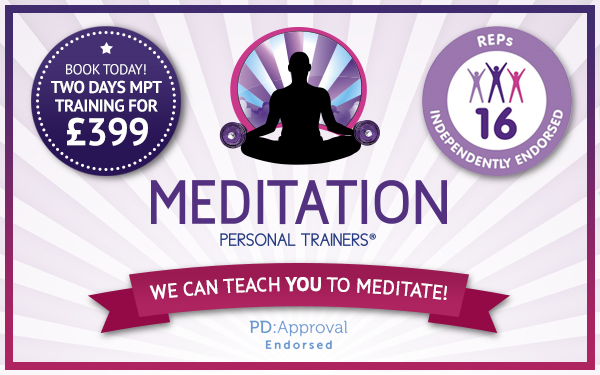 You will learn all about Mindfulness and how to Meditate yourself and also how to teach your clients to Meditate too.
Leave a Review
Publishing ...
Your rating has been successfully sent
Please fill out all fields
Meditation Personal Trainers
9 June 2019
5:03 pm
Lorna Third, Personal Trainer , Lifestyle Coach. This was a fabulous course and Peter shared his knowledge and experiences so well, so engaging and learnt so much. The clarity between mindfulness and meditation has never been clearer and the benefits of both and how they can be used with my clients, to help them get breakthroughs- awesome. The layered model that Peter teaches throughout the course is very simple to use, explain and very powerful. I would highly recommend this course, not just for my clients but for myself as you truly get the benefits of the practical sessions and to have the skills to be able to still my over active mind, and to get clarity about things, was well worth the price of the course in itself.
Meditation Personal Trainers
9 June 2019
4:51 pm
Darren Tebbenham – As a Personal Trainer, Coach and trainer of trainers I left the course with 3 major conclusions:
[1] Learning to meditate properly will serve me greatly,
[2] Being able to teach meditation properly will hugely impact others, and
[3] That any Personal Trainer serious about really wanting to help their clients will consider attending this course. The course is truly excellent!
Meditation Personal Trainers
9 June 2019
4:43 pm
Hazel Wallace-Williams: As a level 3 PT I found this to be so much more than a PT bolt-on. Stimulating and thought provoking. I am so glad I found this course and would recommend to anyone in the field of fitness and well-being.
Tracy Frost
5 May 2019
5:57 pm
Wow this course was amazing. I am a level 3 PT and it is great to have so much scientific credibility. This was the missing part of the puzzle for me. I am so pleased to have done this. So much to take away and use with all my clients. Very excited!
Daniel Chiechi
5 May 2019
5:52 pm
An excellent course. I came in having only experienced meditation through an app. I came away from this course with a more simplified and effective method of meditating for myself, as well as the confidence to teach it to others. I also gained a deeper understanding on the benefits of meditation and mindfulness beyond the mainstream.
Simon Clohessy
5 May 2019
5:43 pm
I've read many books on meditation and have been practising at my local Buddhist Centre for a while but feel this course has really got home to me the practice of meditation, why it's important to do and how to do it well.
Sally Goddard
5 May 2019
5:38 pm
A really informative and enjoyable course, Peter is an amazing teacher and after attending the 2 days, I absolutely understand and grasp the concept of Meditation Personal Trainers. This course is an absolute must for any level 3 instructors and trainers who wish to offer something different and rewarding that adds value to the physical training we already offer our clients.
Thomas MURPHY
6 January 2019
4:41 pm
Peter very good at explaining the how and why we need to do each aspect of the process in an easy way to understand and grasp the concept
Claire MAW
6 January 2019
4:35 pm
Really enjoyed the course. It was a totally unique, refreshing take on meditation. I really understand the training and the delivery method. It most definitely is modern meditation and very practical. I can already see how this will benefit me and I look forward to sharing with clients. Peter is a great teacher, I have learned alot, especially about the differences between different techniques / history . I have never had meditation explained to me so simply and Peter did a great job at dispelling myths and common perceptions. This truly is a skill and a tool for modern life. Thank you!
Jess Szczodrowski
8 October 2018
2:35 pm
Started the course a bit sceptical, but now leaving happy, energised and eager to improve my meditation and spread the message! Thank you Pete!
Liz Shaw-kritsoli
8 October 2018
12:46 pm
The MPT course is a fabulous way for PT's to offer something a little more holistic: a way of addressing mental health as well as physical health. Peter's knowledge about meditation itself is fascinating, & the method he has created to bring meditation into the 21st century is practical & doable. Over a 2 day course he conveys his step-by-step MPT system to PT's giving them a simple, highly teachable structure which they can then take away & start using on their own clients. Brilliant!
Karen Makinson
8 October 2018
12:25 pm
Fantastic course. One of the best courses I've been on. Well presented and fun.
Daphne Graham
7 October 2018
5:06 pm
A vital piece in the jigsaw to attaining good health and fitness – great course, lovely location.
Patricia Poulton
7 October 2018
5:02 pm
I found the course very interesting, possibly could have been condensed a little but the discussions were very interesting and overall an excellent weekend
Keeley Smith
11 September 2018
1:16 pm
What an AMAZING course! I have been a fully qualified personal trainer for 10 years now and to now have the skill to be able to meditate for me is incredible, I cannot wait to be able to pass on this skill to my clients. Cannot recommend this course highly enough.
Liz Shaw
9 September 2018
5:40 pm
My name is Liz Shaw & I run Shaw Lifestyle, coaching exercise, nutrition & stress management. I completed a 6 week meditation course some years ago, & thoroughly believe in the value of meditation for stress management. I have been looking for some time for a way to teach meditation myself, & came upon the MPT course pretty much by accident. The course has more than met up to my expectations. Peter conveys his knowledge & understanding of meditation, and also (importantly) clarifies the difference between meditation & mindfulness. He then presents his own method succinctly yet clearly, whilst showing his overwhelming passion for teaching MPT, & his belief in its merits. He gave course participants the knowledge & confidence to move forwards with his exceptionally well structured & thought out technique. I feel more than ready to embrace his method for my own practice, & excited to then move forwards & teach it to clients who I am confident will benefit massively from it.
Gabriella McMahon
6 June 2018
11:32 am
I am the founder of the G.M. YOGA Studio in Bourne End, Bucks. And wanted to learn to teach Meditation so I could offer more to my clients. After much difficult searching for a suitable non-religious Meditation training provider, I found Peter who runs Meditation Personal Trainers. This course was wonderful. The course and venue were both very relaxing before even doing any meditation. Peter explained and demonstrated the techniques in an easy to understand way which left me feeling relaxed and confident moving forward with my own practice and teaching others. I can highly recommend Meditation Personal Trainers to anyone who wants to learn about teaching and/or practicing Meditation.
Andre Martey
29 May 2018
2:51 pm
As a newly qualified PT I really enjoyed the opportunity to learn practical, evidence based stress management techniques that the Meditation Personal trainer course provided. Having provided workplace wellbeing in previous employment roles, it is great to now be able to combine my personal training knowledge with this REPS endorsed course that I can use as part of my workplace wellbeing package (the CPD points were a pleasant bonus- but I would have done this course even without them).
The course instructor took the time to answer the many questions that we had, and gave practical demonstrations and offered followed up support. Very enjoyable course, the venue was great (particularly the amazing garden space and warm staff). Definitely worth the weekend trip to Norwich!
Mike Somerset
9 May 2018
10:51 am
A great course based upon knowledge and experience. Worth doing for any PT or instructor looking to give their clients more than the usual physical training. i have found since doing the course that clients love and ask for meditation as part of their training programs.