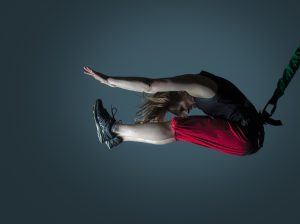 BUNGEE WORKOUT™ WAS CREATED BY WIRED AERIAL THEATRE, WORLD RENOWNED AERIAL PIONEERS WHO HAVE BEEN REFINING, TESTING, TRIALLING AND DEVELOPING THEIR UNIQUE FITNESS TECHNIQUE FOR MANY YEARS …
A constant obsession and exploration into the exaggeration of physical movements which are impossible to perform without BUNGEE WORKOUT™ specific equipment led to the development of this unique technique. Wired Aerial Theatre work at the height of their industry supporting global stars such as Pink, Lady Gaga and Diversity in thrilling mass audiences with their aerial dance and stunt performances.
Providing consultation and equipment and balancing safety and skill, celebrities and performers trust Wired Aerial Theatre to create something new and exciting for their audiences. Wired Aerial Theatre are proud of the unique versatility that participants feel in the freedom of movement both on the floor and in the air space above during BUNGEE WORKOUT™.  A true team, their combined experience led to the development of this 360° workout experience.
If we miss your call while we are bouncing in the studio, please bear with us. Leave us a message and we will call you back as soon as we touch down!