Welcome to TRIBE Ireland Wired  – A mini online Spinning®, Fitness and Wellness Event.
This 1-day schedule is designed for you to sweat, learn and enjoy amongst like-minded friends. This year our focus is on self-care so we have a fabulous line-up for you. Everyone is welcome, instructors, fitness enthusiasts alike. We come together to celebrate being healthy together and learning a little on the way.
For those who have an indoor cycle or Spinning® bike at home, even better, you get to join the rides too.
We can't wait to see you there! Sign up now
Content: The Schedule of the Day
09:15 am  Welcome & Introduction
09:30 am   Spinning® Ride – EVOLVE with Master Instructor Delys Poynton
10:30 am   Workshop – Oxygen Advantage Masterclass taster with Master Instructor Rose O'Donovan
11.30 am   Spinning® Ride – Invisible Connections with National Team Presenter Carmell DeMello
12:15 pm   Break
1:00 pm    Workshop – Feel Good Factor of Fitness with Guest Presenter Daniel Twomey PhD.
2:00 pm    Spinning® Ride – The Big Chill | Moving Chi with Master Instructor Sarah Morelli
3:00 pm    Workshop – Self Care: Spill the Tea
3:45 pm    Closing notes & farewell
Tribe Ireland Wired 1 (Schedule)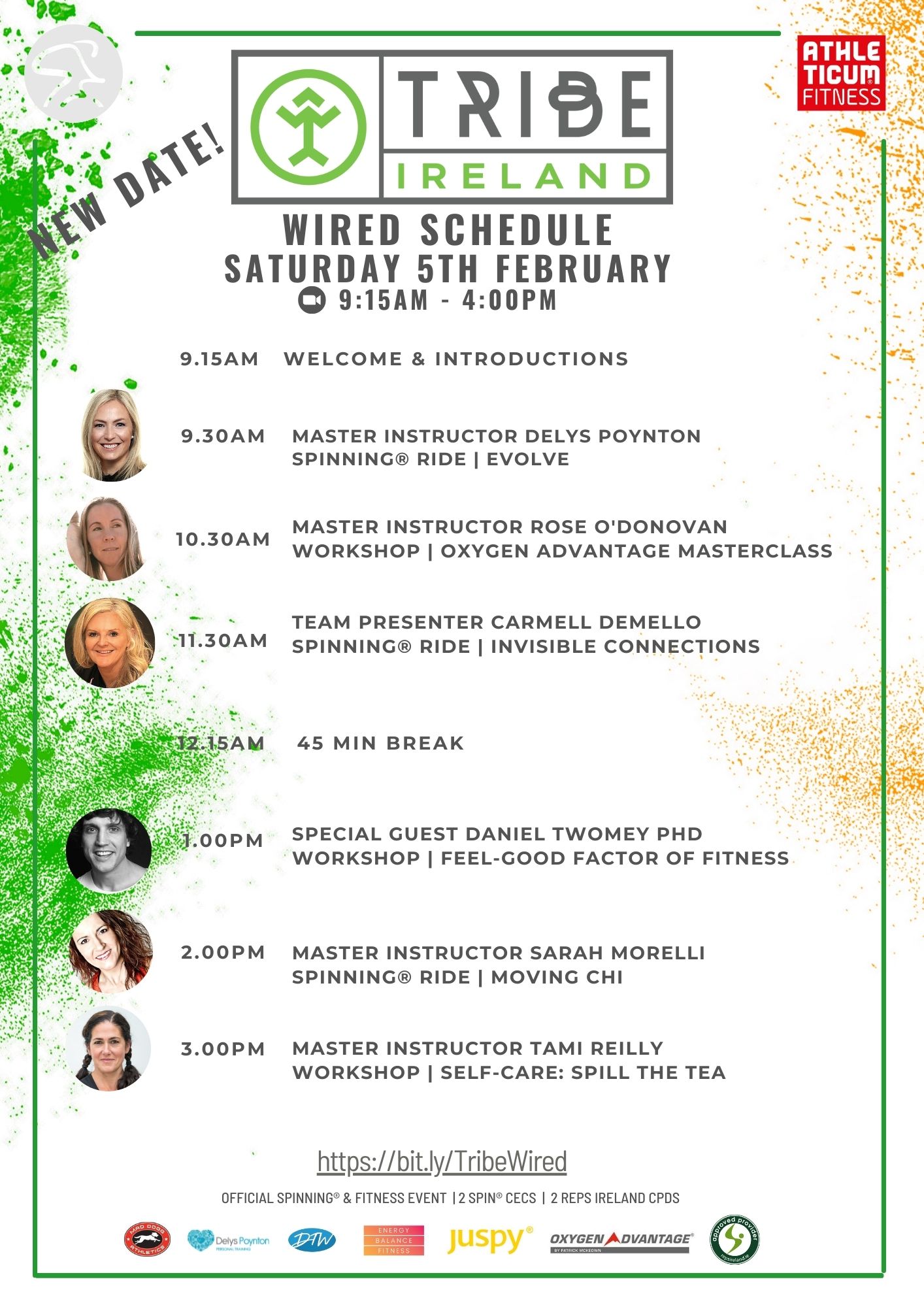 Prerequisite:
Anyone can attend, all are welcome.
For REPS Ireland CPD points the prerequisite is EQF L3 Fitness Instructor with Indoor Group Cycling
Assessment:
None. This is an attendance-based fitness event.
Awarding Organisation:
Not applicable
This is fix for colorbox for small devices, This is fix for colorbox for small devices