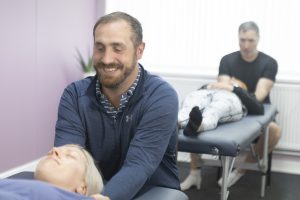 KCR provides Exercise Professionals and Sports Therapy Professionals a scientifically approved, easy to use set of protocols that empowers clients with increased core strength and balance, reduced injuries and recovery times and increases physical capacity.
KCR's use as an assessment tool increases your ability to train and treat clients with astonishing results which helps you tailor your programme for greater accuracy and improved outcomes.
Personal trainers, fitness trainers and exercise professionals love how Kinetic Chain Release (KCR) protocol quickly increases their ability to assist clients.
KCR seamlessly integrates into Fitness programmes enhancing and deepening physical outcomes.
You don't just train them to achieve a certain level of fitness, power and endurance – now – with KCR you can ensure they maintain that level – which keeps them coming back.
KCR's practical techniques greatly shortens injury & recovery time, releases a multitude of aches and pains and re-balances bodies that need to go beyond their limits.
Professional athletes find a marked increase in their abilities, core strength, balance, recovery time and injury reduction all of which increases performance levels.
KCR is a powerful restorative and assessment tool for Fitness Professionals which can in turn positively impact on the performance and success of your clients.
Prerequisite:
No Previous Bodywork Experience Required.
For the purposes of REPS Ireland, and in order to claim CPD points the prerequisite is EQF L4 Personal Trainer.
REPs Ireland or STA members will receive 14 CPD points.
Assessment:
Practical Assessment
Awarding Organisation:
N/A
This is fix for colorbox for small devices, This is fix for colorbox for small devices